The Tears of Lord Siva that are Rudraksha, are the original Beads of Power worn by the Yogis of India for thousands of years to maintain health and to gain self empowerment and fearless life on their path to Enlightenment and Liberation. The many Devotees of Truth who deliberately live their lives according to Eternal Natural Law that is Sanatana Dharma Know that Rudraksha Beads are a Gift from The Almighty God and are a Natural Birth Right of the Mankind.
Rudra" is the name of Lord Shiva whereas "Aksha" means tears. It is said that the plant of Rudraksha has originated from the tear drops of Lord Shiva. As per the Vedic scriptures, Rudraksha can nullify the effects of malefic planets to a great extent. No other bead is considered to be as auspicious and powerful as a Rudraksha.
According to the ancient mystics, effects of the beads of Rudraksha work by just by sight, touch of the hand and the body. rudraksha distracts the evil eye. It has the power of electro-magnetic, para-magnetic inductive property, and Dynamic Polarity, which differ in different mukhis.
Rudraksha, is the most powerful and awesome bead ever. This bead can help you achieve all you want - a healthy mind, body and soul, a wealthy life that many dream of and only some achieve, and a happy you.
How do we choose a good rudraksha ?
Many get confused with the shape and size of rudraksha . One should not seriously worry about it. Just see that the Mukhi is well defined, corns and contours are natural, and there are no cracks near the central hole. The bead has to be lustrous and healthy and devoid of deep cracks and insect holes .
Rudraksha beads can be dipped in milk or water and the same is to be consumed or taken as first thing in the morning.
How do the beads work ?
Rudraksha beads work on different chakras of human body as well on different planets and invite blessings from Gods. They work best when worn on body. Touching skin is not necessary for rudraksha beads to show effect. But method of wearing is very important. Just as gems work when worn on specific fingers , similarly rudraksha work when worn at specific parts of the body in a specific manner.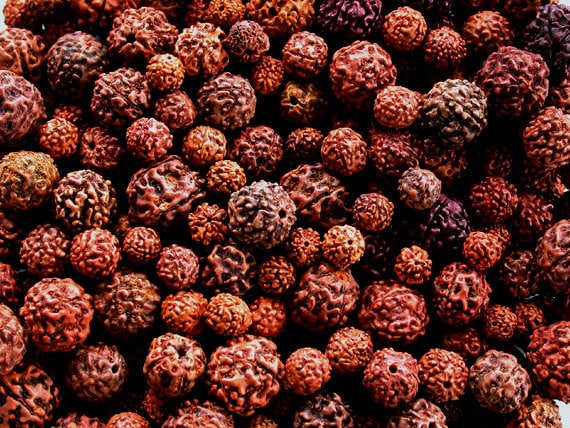 Do rudraksha suit all skins ?
Rudraksha is hot in nature. Some people cannot wear it . Their skin shows signs of allergy. In that case you may keep the beads in Puja room and offer daily prayers
People ask , Can ladies wear?
Yes, they can. According to our holy books , Rudraksha can be worn at all times by everybody .
"Is it that only Hindus can wear?"
No, All can wear. Ancient texts have not limited wearing of these beads to any caste , religion or sex . Some ancient texts also talk of animals wearing them and achieving salvation.
"Does it bring luck?"
Yes, Shiva Purana specially describe that Lakshmi stays where Rudraksha is.
"Can the family members keep interchanging Neck Malas, Japa Malas or Rudraksha beads?"
No. There is a relationship between the wearer and Rudraksha, which is very private and must not be shared. But it can be willed and passed on to the next generation.
Choosing Rudraksha
The best way to choose rudraksha is by reading the properties of the beads and selecting the ones that closely match with what you desire. Our ancients puranas specify properties of the beads only with regards to the different gods and goddess that reside in each specific bead and do not mention any relation whatsoever with their astrological properties. Rudraksha can be chosen by Purpose, Therapy or by Rashi. One bead or multiple beads of different mukhi may be combined together.
1 Mukhi Rudraksha
The One mukhi Rudraksha is the symbol of Godhood, Supreme Truth and Attainment of Eternity. The One mukhi Rudraksha is itself Lord Shankar and it is the main among all rudrakshas of all faces. It is ruled by the Sun and enlightens the Super Consciousness. It brings the power of Dharana to the wearer meaning the power to concentrate the mind on an object. The wearer of One mukhi Rudraksha gets his mental structure changed and he begins to feel renunciation from the worldly affairs and naturally inclines towards GOD. His mind begins to concentrate on the Supreme Element that is Partattva Dharana cha jayate Tatprakashnam thus the discoverers of Aatma Tattva must wear One Mukhi Rudraksha .
2 Mukhi Rudraksha
2 Mukhi Rudraksha effectively control the malefic effects of Moon such as diseases of Left eye, kidney, intestine in physical level and in the spiritual level such as lack of harmony in relationship etc. Two faced Rudraksha has natural two lines or faces. It is oval in shape and is available in two varieties – Nepal and Haridwar (India).It is the symbol of ArdhaNareeshwara, a joint image of the Lord Shiva and Goddess Parvati (Shakti). In this image we see both in one body. It brings unity like the family unity in form, speech and Meaning. Being capable of getting riches and virtuous off springs by wearing two faced Rudraksha, it's wearer becomes capable of leading peaceful and sacred life and the wearer's family finds the reverence and faith continuously increasing among them. Removing the differences of opinions between the Teacher & the pupil, the father and the son, the husband and the wife, and friends, it establishes unity between them.
3 Mukhi Rudraksha
3 Mukhi Rudraksha Bead is known to be one of the most powerful Rudraksha for stopping all problems created in the past and existing in the present moment and about to take place in the Future. This Rudraksha Bead combined with appropriate Mantras helps to dramatically change a persons life for the better in the 40 days it takes to complete an initial Mantra Discipline. The 3 Mukhi Rudraksha Bead is a life saver. The wearer feels its influence by attaining success in his efforts, favourable means, learning and knowledge. Its best virtue is that it makes the wearer free from chronic fever certainly. It contains the Trinity of Gods: Brahma, Vishnu and Mahesh.
4 Mukhi Rudraksha
4 mukhi Rudraksha has four linings from head to bottom at equal distance. Its ruling planet is Jupiter. The power of Brahma exists in its whole effectiveness and Divinity. Being influenced by the creative wisdom of the four headed Lord Brahma, it gives the wearer the creative power and provides him learning and knowledge. The dull mined students must wear it. And it is beneficial to scientists, researchers, intellectuals, artists, writers and journalists. In mythology it represents Goddess Saraswati and Brahma. Malefic effects of Jupiter include intellectual dullness of mind, lack of grasping and understanding power, difficulty in effective communication and also neurotic conditions of mind. This mukhi also governs logical and concrete and structural thinking. It increases wit and intelligence. If the three beads of four faced Rudraksha are fastened in the right hand nobody can be stand to face to the wearer.
Boil the Rudraksha in milk and drink for 21 days to improve memory.
5 Mukhi Rudraksha
5 mukhi Rudraksha is the form of Rudra named Kaalagni. The wealth, in the form of learning that man gains in the world, should be apparent and permanent only then it is meaningful. Five faced Rudraksha is useful for this purpose. In the long run we lose our power to maintain the learning that we have gained and at last it vanishes. We forget the acquired learning or cannot remember the lost learning only after wearing the five faced Rudraksha. Agni (fire) purifies the metals and similarly five faced Rudraksha rectifies all the vices and faults of Jeeva and makes him pure and Jeeva gains the form of Pashupati i.e. the Lord of all creatures after becoming free from the animal instincts. By wearing its mala the wearer's mind remains peaceful. There is no suspicion about the fact that the wearer of Five faced Rudraksha mala never gets untimely death.
6 Mukhi Rudraksha
6 mukhi Rudraksha is the center of the power of Lord Shiva's second son, Kumar Kartikeya. It gives learning, wisdom and knowledge and increases will power. Moreover, it saves us from the worldly sorrows. A combination of four face Rudraksha and six face Rudraksha enhances the vocal & mental power of the wearer amazingly. It is very good for company managers, businessmen, journalists and editors etc. Lord Kartikeya rules over planet Mars, so wearing this Rudraksha removes malefics associated with planet Mars. The afflictions and influences of Mars can cause cuts, wounds, surgery, injury by weapons, itching of the skin, bone fractures, hemorrhoids, miscarriages and abortions. Wearing six Mukhi rudraksha helps in controlling the malefic effects of Mars and increases the concentration. Six Mukhi rudraksha is very dear to Lord Kartikeya and is the source of his energy.
7 Mukhi Rudraksha
Represents Sapta-Rishis and Goddess Mahalakshmi. Cures from cold, fever and confers long life.
8 Mukhi Rudraksha
Symbolises Lord Ganesha. Consume the milk, in which the Rudrakshas is boiled, to get cured of paralysis.
9 Mukhis Rudraksha
Represents Goddess Durga. Confers power and fame. Excess bleeding and abortion get prevented. Women wearing in top right arm will get chioldren.
10 Mukhis Rudraksha
Represents Lord Vishnu. Protects from black magic and snake bites. All types of cough are cured by drinking the milk, boiled with this Rudraksha.
11 Mukhis Rudraksha
Reincarnation of Rudra. Aplying sacred ash (vibhooti) on the forehead and wearing this Rudraksha is equal to performing Aswameda-yagam Helps in getting progeny.
12 Mukhis Rudraksha
Represents the 12 abodes of Sun. Confers Universal recognition.
Planets controlling the dasa period and the necessary Rudrakshas to be worn
One- faced for Sun, Two-faced for Moon, Three-faced for Mars, Four-faced for Mercury, Five-faced for Jupiter, Six-faced for Venus, Seven-faced for Saturn, Eight-faced for Rahu, Nine-faced for Ketu.
For fertility, both the husband and wife should wear Garbha Gauri Shankara Rudraksha. For a happy married life, wear Gauri Shankara Rudraksha, on the day of Akshaya Tritiyai.
How to preserve the Rudraksha
- Keep the Rudraksha in mustard oil for few days and then wash it with soap-nut powder.
- Turmeric powder, kungumam, and sandalwood paste should not be applied on Rudraksha
- Anyone above 3 years old can wear Rudraksha
- Rudraksha gives good results within 41 days after wearing
- Remove the Rudraksha, before going to bed
- Rudraksha must not be taken to the cremation grounds and funerals. Also not be taken to the place new born baby
- Never wear the Rudraksha while having sex
- Women must not wear the Rudraksha during menstrual cycle
- Always keep your Rudraksha clean. Dust and dirt can settle in pores of the bead. Clean these as frequently as possible with something with soft, fine bristles. If the thread dirty or worn out change it.
Rudrakhsas of different mukhis please different planets. Each one has control on one of the nine planets. They receive constructive vibration from the planets. Its power of receiving vibration is incredible and it works like a transformer emitting positive vibrations incessantly. Rudraksha has the power of electro-magnetic inductive property, and Dynamic Polarity. The electro-magnetic and para-magnetic vidrations differ in different mukhis. It sends specific electric impulses to the brain through the process of reflex, which stimulates the brain centres and transfers information in the Neuro physicology, and cures various ailments.